Time:
06:00pm - 10:00pm
Where:
A. J. Gators Sports Bar & Grill, 3908 Holland Rd, Virginia Beach, VA 23452
[Web Site]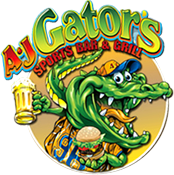 The Mogul Ski Club now meets on the second Tuesday of the month. The general membership meeting is opened to all members, guests and the public. If you are a guest or a visitor, please give a holler to any member of the club who will more than happy to direct you to our membership team.

Social hour starts at 6:00pm with the general meeting starting at 7:30pm. Everyone is to invited to join in for the no-host Happy Hour, with specials running on appetizers and drinks from 5:00 - 7:00pm. The meetings are very informal, with discussions about upcoming events and other club business.

Don't let the title Mogul "Ski" Club fool you. Yes there are those of us who get a kick out of skiing, but it's really more about the socializing and the many other activities we love to participate in. So if you are inclined to visiting Hampton Roads many institutions to partake of the libations or...... skiing, biking, golfing, kayak/canoeing, hiking, camping..... come check out our group.
or call 757/831-2591 for more information.
More Mogul Events...